BMW 530e. A BMW 5 Series luxury sedan that it's a hybrid. Today I'm gonna show you the things you might so interested to know.
BMW 530e – Exterior
Let's first check the front face design. at the first glance, you do have this very wide and big front face. in the middle, you do have those BMW signature kidney grilles painted in glossy black. but if you look closely, you can actually see those blue lines inside. and those blue lines. well, they close the grilles by default. they will move and flip as needed to open the grilles. that is a very interesting feature. 
As for the headlights. well, they are very of course very mean and aggressive. with those big eyes staring at you. and when you move the wheel do, they also move with you. you bet they do! on the side, the BMW 530e looks well very simple and handsome. and that's exactly what being your 5 Series Sedan is so known for. 
At aside, you can see a door that's not a fuel door. it's actually a door to the plug-in hybrid connector. and let's close that underneath there, you do see an eye patch and right there, it's a very shiny chrome finished hole. that's an actual hole you can stick a hand through. and that provides more airflow through the vehicle. the door trim of course and the handles had this very shiny silver chrome finish and in a luxurious feel to this car. and right here you do have the eDrive badge which is of course not available on the regular models. 
18-inch alloy wheels are standard on this car. but if you look closely the BMW badge in the middle actually has a blue ring around it to indicate that this car is a plug-in hybrid. 
Coming to the back, well what can I say is, this still looks very BMW. you have the 530e badge on the right and a very modern sleek LED taillights. of course .opening the real lid it goes up by itself so you don't have to push it. but you may be able to see at space here it's kind of small. and you're right.
This is only 15 cubic feet compares to a regular being abused 530i. which has about 19 cubic feet. the reason being BMW has a battery pack placed right underneath the trunk. taking up more space. but the good thing is now you have a completely flat surface making loading and unloading things a little easier. you don't want to sit here in the middle. it also makes things a little easier.
BMW 530e – Interior
Moving on to the interior, I have to tell you that this is a very mature interior. by that I mean everything is nicely placed and serves a clear purpose. and the material used overall it's very nice. the overall space as you can expect from a BMW 5-series.
It's of course very roomy and spacious and absolutely comfortable. as you sit in a driving position. you've got very nice visibility all around. and this very cozy interior definitely makes you feel comfortable. but overall this I just have too much to go over so I'm gonna just share a few that I love the most with you.
First being the gauge cluster, as you can see this is a very sophisticated gauge cluster made up with multiple pieces and I love that a lot. in the middle you have the LED display that shows you the most vital information on this vehicle. but if you look at the numbers, the numbers are actually mechanical and fixed in place. so you have the digital needle that's moving and you had a number that's fixed in place but it is mechanical.
This combination is overall really cool. on both sides, you have the fuel level and a battery level but the needles are LEDs that are hidden in the dark and can only turn on when you turn a car on. and that makes this edge cluster even cooler.

More on the gauge cluster, as we know in many BMWs you've got three modes comfort Eco Pro and sports well. comfort mode is, of course, the balanced setting means a comfortable right and in this mode, your gauge cluster is just a normal kind of silver little bit of blue, and a more comprehensive setting you can see the charge. the power percentage. and the eBoost status at the same time. 
Put into Eco Pro Mode which saves fuel and supposedly gives you higher mpg you can see that in the gauge cluster and everything times bluer. and you can see the mpg number as the main feature on a gauge cluster. and as you go into sports. you can see that not only the overall gauge cluster has a red accent. you also can see the gear you are in right now as well as the speed in big number. which is not a feature in the other two modes.
More on the drive modes, well now this is not a car that anybody can hop in and start driving. you're actually gonna learn how to drive it and understand the features. because this is a hybrid you do get the BMW eDrive and it has 3 modes. maximum Drive .battery control and, auto eDrive. by default, the car is in auto eDrive. which is a system controlled electric driving combining the combustion engine and electric motor in a smart mode. 
You also have a max eDrive and that you really have your battery sufficiently and almost fully charged in order to get the most out of it. because in that mode the battery will be used in the full capacity to get the motor to deliver the full capacity of power.
Lastly is the battery control which is quite interesting. so in this mode, the battery charge is maintained at a set target value while driving. and that means we can set a target value for example as say 50%. and in that number that means the battery will always be used or sometimes be used when the battery level is above 50%.
However it the battery gets below 50% then the car bro solely relies on its combustion engine until the battery gets recharged back to 50% or more. so those features combined make this car definitely more a higher learning curve than the other ones.
Infotainment
Next up we have the infotainment screen which is right in the middle of this interior. what I love the most about it is not only it has a nice image and definitely displays everything at above 60fps. it is also touch-sensitive. but not only that. it's so responsive to touch almost on a smartphone level. and that to me it's really really important because that ensures a very smooth experience. an exciting infotainment screen is where you can find perhaps one of my favorite features. 
Inside the BMW 530e, go to vehicle settings, and going to a lighting setting you can actually change the interior and exterior lighting. but the best part is you can actually change the ambient lighting and they have a massive selection inside. think a bronze white, and bronze orange one, an orange-white-blue and white ring, and even purple if you like.
so for example, if today you feel like "hmm I want to be in the sort of a jungle feel secret interior." maybe and you can go for the white and green. or sometimes if you take your girl on a date you want more of that you know the romantic feeling. maybe purple is the way to go. or sometimes you can just say I want to feel cozy. I'm really not doing so well. well, browns or orange can definitely make the effects.
Sensitive Air Conditioning Controls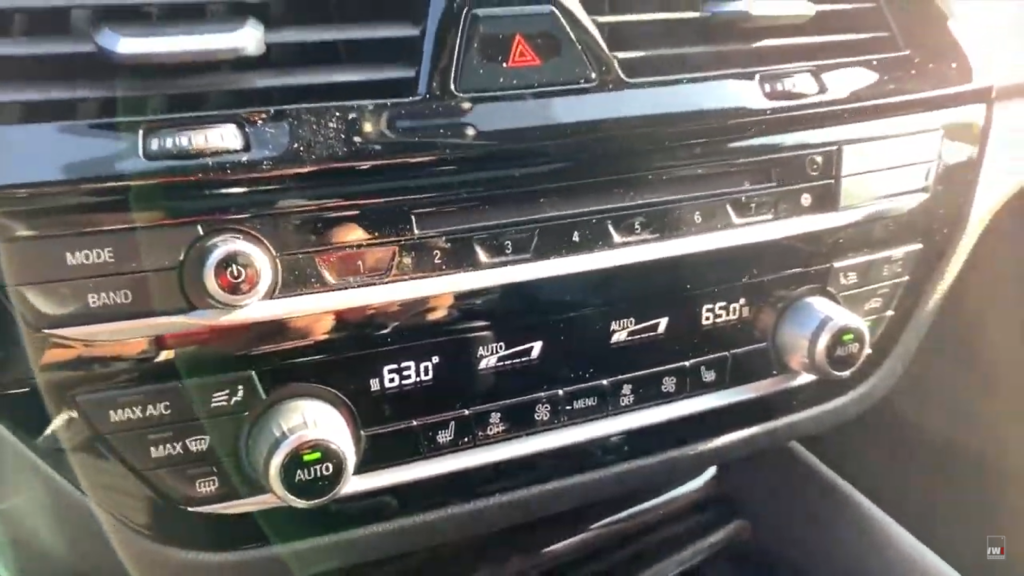 Couple more details here you see right above the AC unit, you have a bunch of numbers 1, 2, 3, 4, 5, 6, 7. those are not just buttons. there are also sensors I believe. because as you right your fingers over them you can actually see that the infotainment screen shows you what presets being assigned and what's currently in effect. so that's a very useful feature as you don't have to click the button to actually use that feature you can actually guide your finger over to see which one you want exactly. 
Smart Braking System
Then right behind the gear lever and the e-brake is to auto H button. what does that mean? well, it actually means "auto hold". on the hill so when the car is on the hill you may have the car slide backward or forward which can be dangerous. but once you have turned on the auto hold (auto H button). the car will hold itself for up to five seconds until you put your foot on the throttle and that cancels that feature. 
More on BMW 5303 Interior
Lastly, I just love how everything lights open so smoothing this car for example in the middle. where you store your cup holders and a wireless charging pad for your phone when you close that thing. this little kind of glides back smoothly very nice. in a center console press, the button the two lids also go like this nice and smoothly. very comfortable.
In the middle on top of you the dorm lights you can turn it on the turn it off. but it also turns on and off nice and smoothly .those are just little details in this car but I think it's just those details that make this car feels more luxurious. oh, and did I forget to tell you that when you open the door you can actually see the BMW logo being projected on the ground in full color. that it's actually pretty nice.
Back Seats and Comfort
So how are the back seats? well, they are very comfortable, to say the least. again wind up used very high-quality leather in the back and it is just as nicely stitched as the ones in the front. about 5 foot 11, and with my normal position in the front row. I have plenty of legroom in the back. and if you're somebody who's even taller well they do carve out be a back section of the front seat for you so you can have even more leg rooms.
Those feel like airplane-style pouches, individual climate control, and all leather armrest. well, the cupholders are hidden inside here push the button and the whole thing just folds out. interesting thing designed, to say the least. but anyways the backseats. it is a very cozy little place to be in. 
Power and Efficiency
Underneath the hood, you do have a 2-liter twin power turbocharged inline-four engine that outputs 180 horsepower. and 255 pound-feet of torque. this car does have an electric motor that outputs 111 horsepower and 184 pound-feet of torque. all this set up combined gives you 248 horsepower and 310 pound-feet of torque. and all these again with the 8-speed automatic transmission gives you a 0-60 time in just 6 seconds. and a top speed limited to 130 miles per hour.
Conclusion
If you're looking for a car that gives you that a bit of excitement when you drive and make you feel safe and comfy and luxurious and then, finally it's definitely not only a good choice but also a more environmentally-friendly choice. so there BMW 530e is an excellent luxury sedan for sure and it's still that 5 series from BMW that we all know and love that's a staple in a luxury car segment. yes, it does have a combustion engine with an electric motor but they work so well.
I'm so smart together that gives you a satisfying driving experience without losing any of the luxuries features that I recommend this car at all. of course, I would love it drives nicely it's comfy it's got everything you wanted in a luxury car but even more, it's more environmentally friendly as I said a step forward into the future.
You may also like to read: Chevy Bolt San Diego CA | Explore the New Chevrolet Bolt EV 2020
The Review
BMW 530e
A luxurious sedan that powered with plug-in hybrid with the top-notch technology.
PROS
Comfortable interior
Plug-in hybrid engine
Advanced safety system
CONS
Low electric driving range
Average vehicle controlling. A big car
Review Breakdown
Battery and Mileage Range

0

Design and Interior

0

Safety

0

Handling

0

Second-Hand Market Value

0