Citroen seems to be on a little bit of a roll at the moment. it's just announced the pure electric EC4 and the rest of the range looks quirky and interesting. and there are some seriously efficient powertrain options on the way. I mean this is good because I like french things I mean the french invented the chocolate croissant. so I rest my case. and the latest addition to the citron stable well it's this. the plug-in hybrid version of the Citroen C5 Aircross SUV.
Overview
So this new C5 Aircross, the basics are that it's a soft rotor with some french style that comes in variously conventionally fueled geysers. and this plug-in hybrid. another plug-in hybrid SUV. a bit oxymoronic in the efficiency stakes but what have we got. well there are five seats, a chunky ride height, and plenty of interesting things to look at. it's either cute or a bit too deliberately quirky. I haven't made my mind up yet. especially with this massive swoosh of silver that seems to cut the car in half. but I do like the way Citroen is thinking. because different is good. and the front looks as if it was designed by someone high on science fiction. there's nothing particularly weird about the bones though the C5 Aircross shares its basics with cars like the Peugeot 3008 the DS7 Crossback and Vauxhall Grandland X.
Engineers call it the EMP2 platform but all we're interested in. is that it all works which it does. as far as practicality goes the boot might be a little smaller than the more conventional air crosses that don't have a battery pack under there. but those three individual seats in the middle. they all slide about so you can give either more boot space or better legroom. 
Performance
You can also plug in the entire car which makes sense because it's a plug-in. and that means that you get a 1.6-liter four-cylinder engine driving the front wheels through an 8-speed gearbox but you also get these badges which means it's a hybrid. yes, that's a badge that says hybrid which means that bolted to that gearbox is an 80-kilowatt electric motor powered by a 13.3-kilowatt-hour battery, hidden somewhere in the back of the car. that's 225 brake horsepower a combined of 166 and about 32 to 33 grams per kilometer of CO2. all figures which will please anyone who pays well who pays tax. it could save about 270 pounds per month if you're a 40 taxpayer. but that stuff will only please those of us who care about the environment if the car gets plugged in on the regular. 
Electric range
A couple of hours on a 32 amp wall box should do it providing up to 34 miles of pure electric range. 
Comfortable interior
What makes this citron different, well the thing I like about this Aircross PHEV is that it's very much pointed very firmly in the direction of comfort rather than perceived sportiness. and it's something that Citroen as a brand is very keen on. because they've got this thing that they call the Citroen advanced comfort program. take these seats, for example, they're designed to be as ergonomic and comfortable as possible. rather than looking cool. but completely you on a two-hour commute. so the soft and squishy foam on the top here is this inner panel. and then high-density foam underneath that the top bit cups the bottom of your bottom. 
There are optional heaters and a properly aggressive massaging function which is borderline abusive. the electric motor has been tweaked to be quieter and to run to higher speeds therefore staying in ev only mode for longer. the cabin has extra sound insulation to damp down any intrusive noise too. then there's the suspension damping. now this all sounds a bit boring but it's relevant I promise. remember how citrons used to have weird suspension which made them comfortable. while the Citroen C5 Aircross isn't quite that odd. but it does have some cleverness which smooths out our rubbish roads. Citroen calls it progressive hydraulic cushions which were believe it or not originally invented for ultra-fast rally cars.
Suspension
Now the suspension has been designed to be squishy most of the time. but then firm up when needed. such as when you're going around a corner so you get a kind of ride that relaxes you rather than in rages. and to a point it works just mooching about it is excellent if you're in hybrid mode and just using the ev, it's relaxing. but it isn't quite as relaxing to drive as Citroen makes out. because if you hit a big bump it still does thump a little bit. still, it's a little bit better than the competition, and that's a good thing. and you know what it works well when you're just mooching and cruising in electric mode.
Handling
I've been getting nearly 30 miles of range out of this car which isn't that bad at all. and it drives nicely it handles adequately it's not a sports car it never will be. and it generally feels it's like a nut it's just a nice bit of kit. this isn't an exciting car it's not even an SUV. I mean this is more of an MPV. so it's lower, it's calmer, it might look like it's got four-wheel drive. but it won't ever have it it's front-wheel-drive only. this isn't a car that can bomb across a plowed field. there's nothing wrong with that. it's just not quite what you might expect.t there are a few little neat touches though it's got a little blue light. just under the rearview mirror. and it's not just to try and pretend you're a police car to people you're following. it shows inner-city cameras that you're running in ev only mode. so you can avoid fines when you're driving in town centers. though I do wonder about showing a blue light out the front of your car. I got told off for that when I was 17 I'm not sure the laws changed.
Infotainment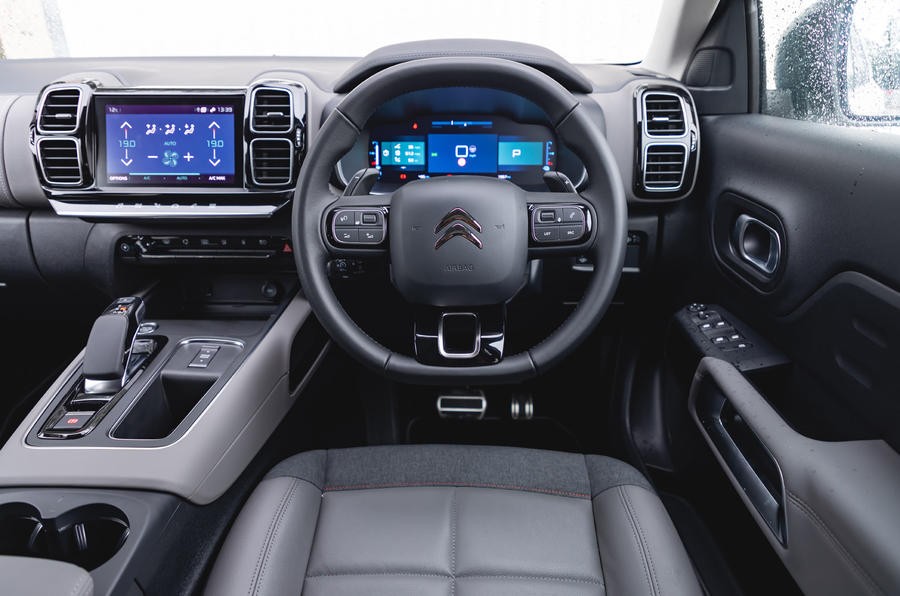 As far as the interior, do you know what I quite like it's a bit strange but I like strange and that's fine? there's a big digital instrument panel here and you can change the views mess around with it do all the things you want .and then if you press this little lining bolt down here it gives you the display that shows the flows of energy and all the trick stuff that you get with the hybrid. there are three modes to choose from and there's an electric hybrid sport and then sort of accessed through this little rocker here. and the only one that doesn't feel like it does what it says on the tin is a sport because. it's about as sporty as me. it's also got stacks of useful storage like this bin here. again that sounds like a little thing but I found it all useful.
It also comes with 19 different driver-assist technologies which is a lot. some of which feel a bit ott some of the time I mean trailer assist is nice but it's quite specific. and then there's coffee break alert I don't need reminding that I always need coffee. 
Citroen C5 Aircross PHEV SUV – Final words
So what have we got well the c5 aircraft PHEV is a more efficient version of a practically useful and pretty good looking car. our plug-in hybrid SUV's the future if you want to be kinder to the environment. well, probably not. but if this car fits your lifestyle then there are much worse places to be. as ever if you want to know more about the c5 or any of its competitors then please do log on to electrifying.com where you'll very much learn things we're not sure what things. but certainly, some stuff if you'd like to know more about the c5 aircross and its competitors the Peugeot 3008 or indeed the use tents then please log on to electrifying.com where you'll find all the information you need to know you 
Video Credit Goes to Electrifying
You may also like to read: BMW iX3 SUV 2021: A Quick Overview