Renault Twizy is a pure electric microcar. also, you can just call it a quadricycle as well. Let's begin this article with what you basically need to know about this cute EV.
General Overview
This car is a two-seater. wicked rear-wheel drive. the electric motor is also in the backside of the vehicle. 
It's got scissor doors that look kind of exotic, and futuristic for sure. it is a car that turns people heads, and importantly it is electric too. 
Renault Twizy was actually launched back in 2012 though but strangely enough, you don't see many around the world. I guess that's because it's a bit too funky for us to reserve. it's more like a scooter with four wheels than a proper car. also, we don't have the weather for a car which doesn't have doors. 
Motor Performance
The Renault Twizy motor produces just 13 kW or about 17 BHP. which is about a quarter of the power you'd squeeze out of an average city car. and consequently, it's quite slow. the top speed is just 50 mph. but it does get up to 30 miles an hour quite quickly which makes it perfect for city driving.
Handling
Remember, it doesn't weigh that much. so it doesn't actually need that much power. but crucially is it fun to drive. weirdly it's an absolute hoot but not in the traditional sense. it'll squeeze through tiny gaps in traffic. the car has a small turning radius. and it's an absolute doddle to park.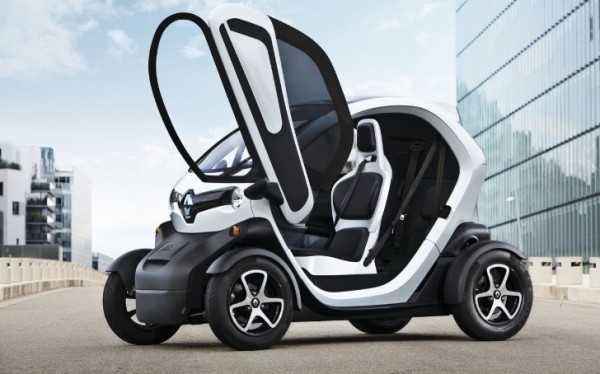 Space
This little electric quadricycle is not quite as good in the city as a motorbike. but actually, it's not far off. and the bonus you can take a friend along for the ride too. well, you can but you need to be friendly.lol. because you don't sit side by side like in a normal car they kind of have to straddle behind you like on a motorbike. so it's a bit cozy. perhaps although I must say having driven it on the streets of Paris. it is so much fun.
Battery and range
Let's talk about the range of this car. because the battery's tiny compared to a proper EV. Renault Twizy battery is about 6.1 kWh. the top miss underneath 10 times that capacity. and it means you get an electric range about 56 miles out of a charge. or a bit less. 
Charging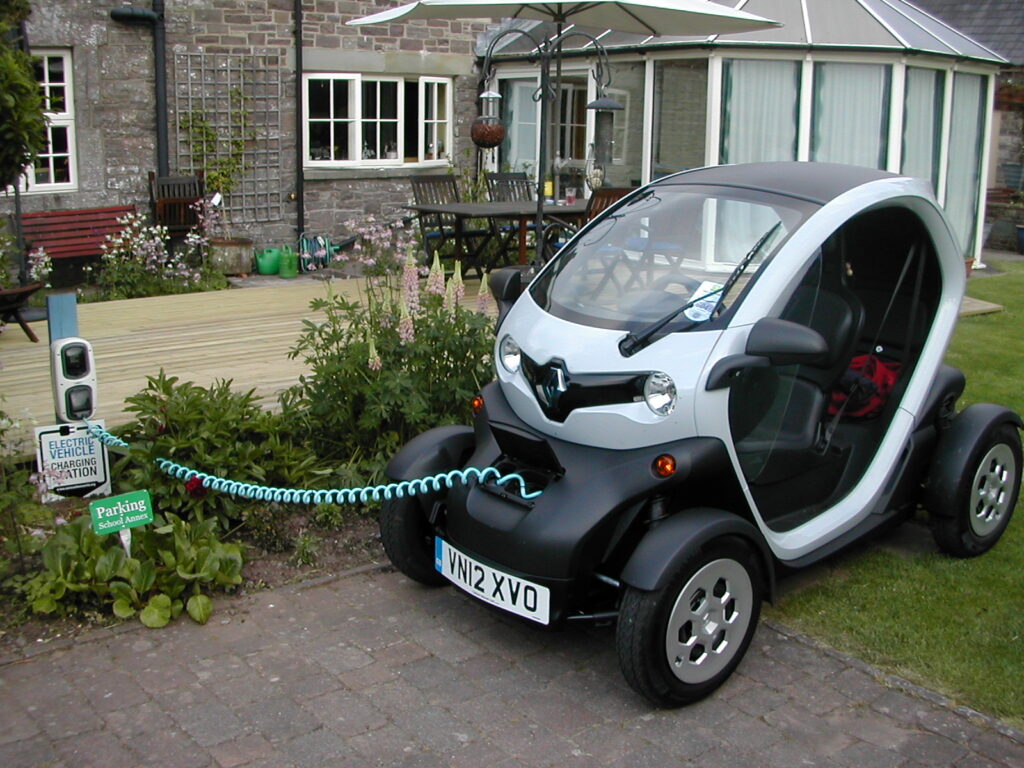 The 50 miles range isn't much. but it's plenty for the average commute when you get to your destination you can plug the Twizy into any 3 pin plug.  Yes, Renault Twizy only has a 3 pin charger. it'll charge the battery to 100% in about 3 and a half hours. 
You can use a three-pin plug. so it doesn't need a special charger. your filling station will be any plug, anywhere. it sounds great. however, it actually could be a bit of a pain if you're relying on public charges because three pins are actually quite rare.
Less in high tech – but too simple
The technology is, let's say sparse. there's no radio, there's not even a heater. so it's not quite a high tech electric car like the Tesla series. not quite. no, the safety scores aren't great either. but it does actually have an airbag. bonus more than you get on the motorbike. 
Pricing
This little car is one of the cheapest ways to buy a new EV. prices starting at £6,690. yes, under seven grand. but you still have to pay a battery rental fee of about £50 every month for the rest of the life of the car. that is a bit of a pain.
So what do we think? do we recommend? do you know what, it's great fun. and it could work if you need something just to nip around town. but I can't help feeling that it's more suited to warmer climates. after all, you could buy a Renault Zoe used for the same money which would do most things better and keep you dry when it rains. but not as many people would notice it. do you know what some people might think that's a good thing? fair enough. 
Final Thoughts
I think I know what you're talking about. now it's not a supercar. but a great electric quadricycle for daily use in your city. it's not a car for shy people. it looks more like something from the drunk future. it is a bit more protective than a motorbike though both from the rain and in an accident. but importantly what is it like as an electric vehicle. because that is the point. it's designed to be used in town. 
Renault Twizy Specs: Summary
Motor Power: 17 BHP
Top Speed: 50 mph
Battery Capacity: 6.1 kW
Range: 56 miles
Charger type: 3 pin plug only
Payload: 115 kg
Safety features: Airbag available
You may also like to read: ORA R1 Review: Superior Chinese All-Electric Mini Car